SHUB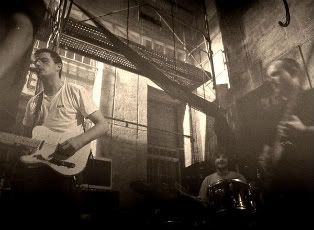 SHUB is a trio from Nîmes (France) : Ralfrock (Voice , guitar), Didier (bass guitar) and Ben (drum). Playing from 1996, it is one of the band that really diserve to be more known in the noise musical background. Playing music between Sloy and Modest Mouse they anyway have their own style which is really difficult to define. People usually say that it reminds them a lot of bands without reminding them any of them ….
SHUB est un trio Guitare/Basse/Batterie de Nîmes.
Jouant depuis 1996, c'est probablement l'un des groupes le plus mais aussi le moins connu du milieu noise underground. Tout ce paradoxe regroupe Shub dans leurs errances musicales influencées nottamment par Sloy, Modest Mouse et Polvo. Leur style musical est aussi facile que difficile à definir …
Members :
RalfRock : Voice / Guitar.
Didier : Bass.
Ben : Drums.
Troisième album du groupe Western Noise Francais. Faut il encore les présenter !!! Le mieux est d'écouter.
Third album of the Western Noise french Band. Is it still needed to introduce them !!! The Best is to listen to it.
— Avaliable in 12"Vinyl + CD , silkscreened
–Disponible en vinyl 12" + CD, serigraphié
10 euros (+2euros special shipment)
Shub – The Goose the snake and the Ladder
This is the Second album of Shub. We are really proud to release it. If you know Shub already you for sure will like it, if you don't know Shub already this is probably the best album to get and listen to !!!!
C'est le Deuxiéme album de Shub. On est super fier de le sortir. Si vous connaissez déja Shub, et bien vous ne serez pas déçu, si vous ne connaissez pas Shub et bien c'est probablement leur meilleur album !!!
— Available in 12"Vinyl , silkscreened in 2 colors.
–Disponible en vinyl 12" , serigraphié en 2 couleurs.