BOUTROS BUBBA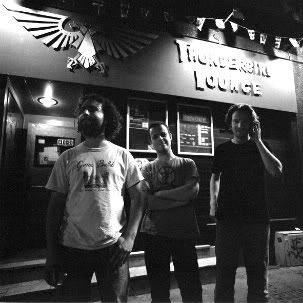 Boutros Bubba is a rock band, consisting of musicians that have formerly played in Gone Bald, Petrified Host, Quarles van Ufford, SGP and Crowd Surfers Must Die. Boutros Bubba's music is like a road with a sturdy asphalt surface, but with treacherously slippery patches. At points in their music the fundament of heavy drumming and tight guitar riffs gives way to swaggering drinking music and suspenseful improvisations. Not only in the lyrics, but also in the music itself, there is a deep sense of absurdism.
BOUTROS BUBBA est un groupe de rock avec des musiciens ayant précedemment joué dans Gone bald, Petrified Host…. La musique de Boutros Bubba est basée sur un batterie puissante et des riffs de guitare qui poussent a la consommation d'alcool …. Leur musique est aussi teintée d'absurdité que ce soit dans les paroles que dans leur compositions.
Members :
Freddie Mercury, Spoelstra, Vreselijk Ongeluk
Boutros Bubba – National Anthems
National Anthems is the first full album of Boutros Bubba, after the cd EP Hearing Voicst In A Beer Commercial Makes Me Wanna Get Drunk and the 7" How I Wrote The Star Spangled Banner. The cd National Anthems was recorded in Sing-Sing studios in the North of the Netherlands and was later sublimely mastered by Jason Ward at Chicago Mastering Service. During forty minutes a parade of country musicians-turned-religious maniacs and dominant clowns, of puzzled barfighters and inexorable drunks, of melancholic weathermen and cryptosexist office workers passes by in the form of nine tightly played rocksongs.
National Anthems is released in co-operation with My Own Music Industry Recordings and Narrominded.
C'est le premier album de Boutros Bubba, apres un EP et un 7". National Anthems a été enregistré aux studios Sing-Sing aux Pays-Bas, et a été masterisé par Jason Ward a "Chicago Mastering Service". Pendant 40 min et 9 titres , vous allez écouter une parade de clowns dominants, de musiciens maniaco religieux, d'alcooliques infatiguables, et meteorologistes melancoliques.Ce CD est en co-opération avec My Own Music Industry Recordings and Narrominded.
— Available in Digipack CD
—Disponible en CD Digipack.