GREGALDUR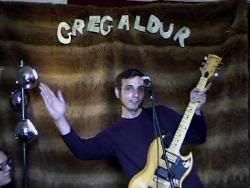 Gregaldur est un projet bidouille lo-fi Cherbourgeois né en 2006.
Sa musique s'inspire de plusieurs styles musicaux, indie rock, musique minimaliste, electro-pop, expérimental…
Pour l'instant cet homme orchestre péruvien Pop Lo_Fi Hybride se contente de parcourir La France Mais aussi l'Europe a la recherche du Concert de sa vie .
Alors si votre curiosité vous démange,et que sa musique vous enchante n'hesitez pas a lui proposer un concert ! (contact par Myspace)
Part of the 3 Split initiated by Les Trucs, this split is a 250 limited edition with the One Lo-Fi Man Orchestra, and the 8bits Frankfurter electro Duo.
This Split contains 2 tracks of Gregaldur + 2 tracks of Les Trucs..
«Faisant partie des 3 splits initiés par les Trucs sur differents labels ce split est limité a 250 exemplaire avec sur une face 2 morceuax du "one Lo-Fi man band orchestra" et sur l'autre face 2 morceaux du "8 bits Frankfurter electro duo".
— Available in Vinyl 7" Very Limited edition of 250 , handmade cover (tainted + print)
—Disponible en Vinyl 7" édition Limitée 250 piéces ,pochette faite main (teintée + Imprimée)
5 euros (+1 euro special shipment)